Truck Trials Map


Test track for performance tests and to tweak physics parameters.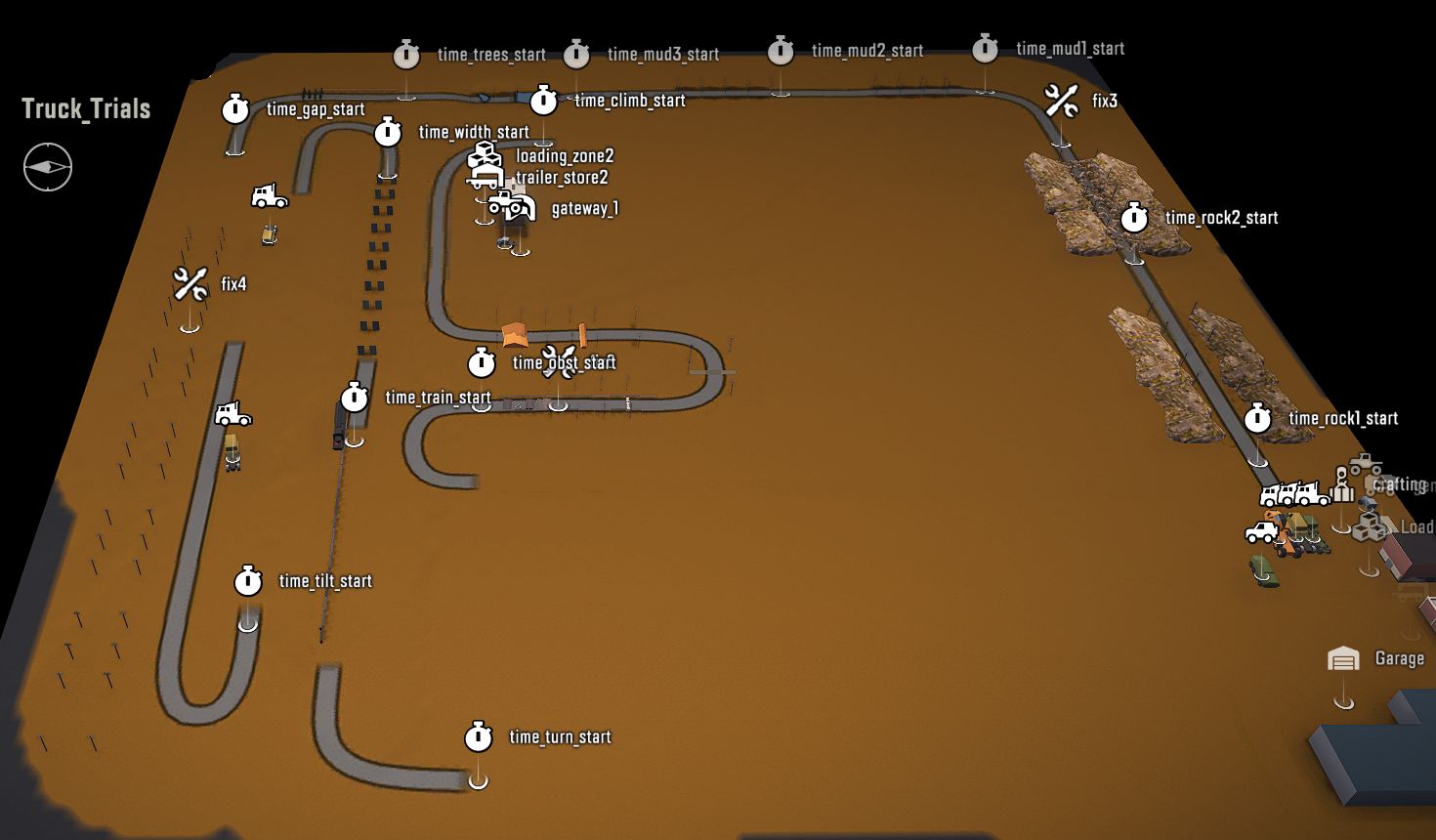 Contains the following test stages:


Rocks (large & extra large)
Mud (medium, deep & watery)
Horizontal gaps (1-6m)
Vertical gaps (4-2.2m)
Tilt angles (20-45º)
Turning radius (30-15m)
Climbing (20-45º)
Miscellaneous obstacles
Train pull
Trees
All sections are designed to be as simple and straightforward as possible, in order to reduce terrain randomness, and to make the tests as consistent as possible.
Rather than have a huge mud section (where one path might be faster than another, and which would invalidate the test results), sections on this map as as tight as possible, so that the same path is taken every time, giving you more consistent results when comparing trucks.
(The only exception are the extra large rocks and the obstacles section. Because different trucks have different strengths, the optimal paths taken will differ from one truck to another.)

All stages are set up as contests, so that the engine will give you exact timing for the passage.

There is an attached winter map with three stages:
Deep snow
Icy road
Breakable ice
The main map contains a garage, 2 trailer stores & loading zones, a fabrication & unloading zone, as well as multiple repair zones.
There are several rescue vehicles on the map (in case you flip over), and winch points on all critical locations.
You start the map at level 30, with $500K.
Vehicles of any nationality can be purchased.
Developer menu is enabled.
A spreadsheet with the results for a for a few already tested vehicles is available on Google Sheets. (To use the scoring method of that sheet with your own tested trucks, download the file, and enter your data in Excel.)
Mud/Snow conditions, obstacles and trees can be reset by switching maps.
Note: If you have a failed attempt at the train pull, just switching maps will not reset the disturbed ground in the area (since the train is considered a trailer, and thus preserves the territory around it). You will have to start a new mission in order to reset everything properly.
Installation:Place the downloaded zip file into your \My Games\SnowRunner\Media\Mods folder; then start a "New Game" / "Custom Scenario", and select the truck_trials map.
[back to main page]